August 18, 2006
Affirms readiness of Suvarnabhumi Airport by Transport Minister
Posted in: Suvarnabhumi News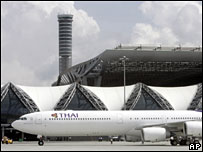 Transport Minister Pongsak Raktapongpaisal on Thursday affirmed that Bangkok's new Suvarnabhumi Airport is ready to open for commercial services on September 28, but might have some problems on equipment transfer in an initial period.
Mr. Pongsak said the airport had already been in place for services, while the Don Muang International Airport is so crowded now.
He conceded that there might be some difficulties in the equipment transfer or the opening in an initial period. But it is considered usual for the transfer of offices to a new location.
---
Return to: Affirms readiness of Suvarnabhumi Airport by Transport Minister