Suvarnabhumi » Battle of the Airtropolises takes off
Sunday, July 20th, 2008
---
Custom Search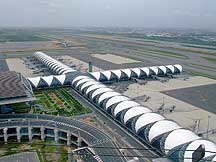 CNA Singapore News Analysis: - With the opening of Bangkok's new Suvarnabhumi Airport on Sept 28, the race to develop airport cities takes a critical step forward.
In no other part of the world is the competition more intense than this region. While Singapore Changi Airport frequently tops the list for efficiency, its closest rivals, which include Kuala Lumpur International Airport (KLIA) and Hong Kong International Airport (HKIA) at Chep Lap Kok besides Suvarnabhumi, boast room for expansion that would be hard to come by for Changi in the new strategy.
The traditional model of airport development has evolved from a facility where revenue comes mainly from airlines through such obligations as landing and parking charges – to one that taps the potential of non-aeronautical businesses: Retail outlets, restaurants and entertainment, for example. It has also seen the proliferation of landside activities and facilities to cater to non-travelling visitors.
According to the Civil Aviation Authority of Singapore (CAAS), non-airline related revenue now makes up 60 per cent of Changi's earnings – a reversal of the traditional model.
The airport solely as a function of aviation is no longer an attractive enough proposition for it to be positioned as the preferred hub for transits and transfers. But the strategy is not new to Changi, which the authorities had once wanted to be referred to as an "airtropolis". Since the '90s, Changi has been actively promoting the airport as a city in itself – later to be echoed by its neighbours in their plans to make the airport a destination in its own right.
On top of the innumerable restaurants and outlets retailing specialty and convenience goods, there have been added entertainment and recreational attractions that include a swimming pool and other activities that give it the vibrancy of a city.
Changi has also just completed a $240 million upgrading project for Terminal 2, adding another 2,800 sqm of floor space to the departure and transit hall.
Besides impressive aesthetics and more retail outlets, it now boasts a reflexology spa and "lifestyle" toilets with natural lighting and a clear view of the airport's runway. Terminal 3, which will be completed in 2008, will feature even more impressive aesthetics, more retail outlets and an adjacent hotel.
But is that enough to stay ahead of the competition?
Although officials from Thailand and Singapore are quick to acknowledge that both Suvarnabhumi and Changi can remain hubs and continue to grow, diplomacy cannot disguise the rivalry.
Suvarnabhumi expects to achieve full capacity of 45 million by the end of next year, up from 39.4 million. Changi's Terminal 3 will expand the airport's capacity to 64 million. By that time, Suvarnabhumi's new budget terminal will add another 17 million, and the final target is 100 million.
Meanwhile, HKIA is developing its Terminal 2, whose SkyPlaza will provide 38,000 sqm of retail, catering and entertainment facilities to include an international exhibition centre – SkyExpo, which is now opened for business – a nine-hole golf course, an airport hotel and a cross border ferry terminal known as SkyPier.
HKIA aims to increase its 40.7 million throughput by 5 per cent annually. More than the other airports, HKIA is positioning itself as a transportation hub, where all modes of travel converge.
Not to be left out, KLIA plans to create Gateway Park – a huge commercial and recreational area devoted to non-aeronautical activities – that will incorporate the existing Formula One racing circuit and boast a new Business Park, corporate bungalows and hotels, hypermarkets, shopping malls, an amusement park, cinemas, a horse riding course, a golf course, a small lake for fishing and a shooting range.
Who will emerge the regional leader will depend on the unique experience it can offer its customers, supported by a comprehensive range of facilities.
The airport of the future will be more than a place where air travellers embark, disembark or connect flights. It will be a purposeful destination, whether for leisure or business.
Increasingly, airports are becoming travellers' playgrounds and the meeting points for busy executives arriving from different ports. Taking this a step further, HKIA plans to establish an on-site gold depository to support Hong Kong's aspiration to be the headquarters of international companies – cashing in on the growing business interest from China – managing their East Asian business operations. The airport as the marketplace where business deals are sealed is not an improbable development.
Makeovers for existing facilities are necessary, but not adequate, in the race to be the region's primary airport city for leisure and business.
(By Liang Dingzi,

The writer, a management consultant, previously worked in the aviation industry.)
Related Topics