Suvarnabhumi Archive for August, 2006
---
Custom Search
Thursday, August 31st, 2006
The national carrier is finalizing its plans for moving to Bangkok's new international airport, Suvarnabhumi, as the official opening day is drawing near. The plan involves transferring avionic equipment and staff of up to 300 companies in one lot from the present Don Muang International Airport to Suvarnabhumi International Airport, located 30 kilometers east of Bangkok. The equipment will need to be installed and ready to operate by 0600 hr on 28 September 2006.
In the case of Thai Airways, there will be a total of 2,929 articles of equipments and 27 aircraft to be transferred on the night of 27 September to officially kick start the operation at the new location.
---
Thursday, August 31st, 2006
Suvarnabhumi Airport is expected to open toward the end of September. Meanwhile, tourism sites located in neighbor areas of the new international airport have been preparing to serve a number of tourists as a good place to take a short trip before boarding their flight.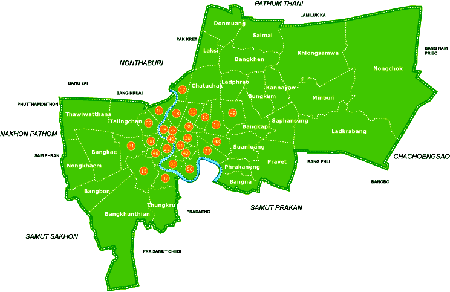 (Picture by Bangkoktourist.com)
According to the Tourism Authority of the Central Region, several trips to nearby attractions, located not more than 100 kilometers from the airport, will be available for visitors.
Instead of waiting for their flight at the airport from 3 to 10 hours, the travelers will be provided with three-to-four-hour round trips visiting well-known attractions nearby.
---
Monday, August 28th, 2006
The international departure tax would be increased by Bt200 to Bt700 and domestic passengers would incur a Bt100 fee, up from a current Bt50. The increase would be effective from February 1, 2007.
Bangkok-Airport-Fee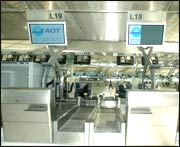 AOT operates Suvarnabhumi Airport. It had planned to introduce the new taxes upon the opening of the new airport on September 28. Meanwhile, new landing fees levied on aircraft using the airport would be imposed from April 1, 2007. That is a six-month delay from the original schedule.
AOT said it was postponing the new fee to attract airlines to Suvarnabhumi. The new landing fee is a 15-per-cent increase on that charged at Don Muang airport.
---
Related Topics