Suvarnabhumi » Affirms readiness of Suvarnabhumi Airport by Transport Minister
Sunday, July 20th, 2008
---
Custom Search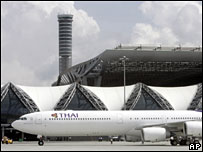 Transport Minister Pongsak Raktapongpaisal on Thursday affirmed that Bangkok's new Suvarnabhumi Airport is ready to open for commercial services on September 28, but might have some problems on equipment transfer in an initial period.
Mr. Pongsak said the airport had already been in place for services, while the Don Muang International Airport is so crowded now.
He conceded that there might be some difficulties in the equipment transfer or the opening in an initial period. But it is considered usual for the transfer of offices to a new location.
He viewed unless the new airport was opened on scheduled, various systems and equipment already put in place would be dilapidated.
"Unless the airport is opened for services now, I want to ask when and for whom it will be opened. The airport is like a house. It is now completely constructed and decorated. Now, it is a stage of the transfer of residents and stuffs into the house," he said.
Mr. Pongsak is scheduled to inspect the readiness of systems in the airport on Thursday. It is expected that the test run of the systems will take more than three hours.
Mr. Pongsak affirmation came after former prime minister Banharn Silpa-arch, who is Chat Thai Party leader, suggested that the opening of the new international airport be postponed.
Related Topics