Suvarnabhumi Suvarnabhumi Airport Railway Link
---
Custom Search
Thursday, March 4th, 2010
The State Railway of Thailand is delaying the opening of its Suvarnabhumi Airport Rail Link after it found the developer Siemens would be unable to finish the railway on time.
SRT governor Yutthana Thapcharoen yesterday said his agency had planned to start commercial services between inner Bangkok and Suvarnabhumi airport next month, but Siemens was not ready to hand over the system.
---
Wednesday, June 3rd, 2009
Thailand's tourism related agencies on Monday (1 June 2009) launched 15 special tour packages in Bangkok and its environs to attract transfer passengers making stopovers of 12 hours or less at Bangkok's Suvarnabhumi Airport, in an attempt to boost the country's tourism industry.
The campaign which targets transit passenger has been jointly launched by the Tourism Authority of Thailand (TAT), the Airports of Thailand (AoT), the Immigration Bureau, Thai Airways International (THAI), and the Association of Thai Travel Agents (ATTA).
TAT chairman Veerasak Kowsurat said that the campaign is aimed at boosting the country's economy and increasing local incomes.
---
Saturday, April 5th, 2008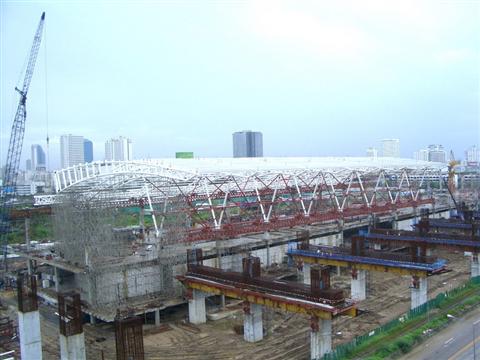 The long-delayed Suvarnabhumi airport railway link project is expected to be completed by the end of this year and to open for service early next year, according to the project manager.
Speaking after leading a media tour to observe construction progress, Banjongsak Panthon, project manager and engineer, said the civil engineering portions of the airport railway link project is some 78.5 per cent complete and that the electrical and mechanical portions are about 80 per cent ready.
He said there is much progress in the construction of the station and railway system, with Tub Chang Station set to become the first to be completed in July. Now, it is 60 per cent complete.
---
Related Topics