---
Custom Search
Thursday, November 27th, 2008
Due to the suspension of services at Suvarnabhumi International Airport, all inbound and outbound flights were cancelled since 04.00 hrs. during 25-26 November 2008, causing inconvenience to passengers.
The stranded passengers who fly with Thai Airways have been accommodated by Thai Airways International. The Ministry of Tourism and Sports in cooperation with the Tourism Authority of Thailand (TAT), Tourism Council of Thailand (TCT), Association of Thai Travel Agents (ATTA) and Thai Hotels Association (THA) transferred the remaining stranded passengers to the following hotels:
1. Imperial Queen's Park
Address: 199 Sukhumvit Soi 22, Sukhumvit Road
Khlongtan, Khlongton District, Bangkok 10110
Tel: 02-267-9000, 02-261-9300
---
Friday, November 2nd, 2007
Airports of Thailand Plc (AOT) is adopting an incentive scheme to attract scheduled international air traffic to its four airports outside Bangkok through hefty reductions in aircraft landing fees, effective today.
The cuts, by as much as 95% of its normal fees, are essentiality aimed at luring newAirport Landing Fee carriers to operate through the four airports and encouraging those already operating to step up frequencies, said officials of the majority-state-owned firm.
The 'aviation marketing incentive programme' is applied to Chiang Mai, Chiang Rai, Phuket and Hat Yai where traffic volumes have been growing slowly.
---
Monday, August 28th, 2006
The international departure tax would be increased by Bt200 to Bt700 and domestic passengers would incur a Bt100 fee, up from a current Bt50. The increase would be effective from February 1, 2007.
Bangkok-Airport-Fee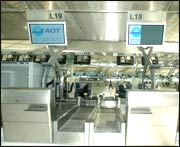 AOT operates Suvarnabhumi Airport. It had planned to introduce the new taxes upon the opening of the new airport on September 28. Meanwhile, new landing fees levied on aircraft using the airport would be imposed from April 1, 2007. That is a six-month delay from the original schedule.
AOT said it was postponing the new fee to attract airlines to Suvarnabhumi. The new landing fee is a 15-per-cent increase on that charged at Don Muang airport.
---
Related Topics