Suvarnabhumi » PM eases Suvarnabhumi move timetable
Sunday, July 20th, 2008
---
Custom Search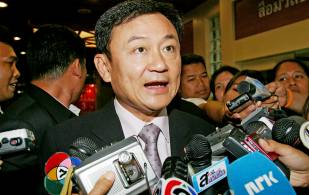 To cool the publicly-expressed displeasure of Thai Airways International (THAI) staff to moving the airline's domestic operations to the new Suvarnabhumi international airport for a Sept 15 startup, Caretaker Prime Minister Thaksin Shinawatra has moderated his earlier demand.
Domestic airlines wishing to operate from the airport on that day could do so on voluntary basis, but it will not be mandatory.
Speaking to journalists, Mr. Thaksin said he would meet with the Suvarnabhumi international airport committee Sept. 14 and would leave for Cuba to attend the Non-Aligned Movement (NAM) meeting immediately after the airport meeting ends.
Most sections at the airport will start operating on Sept. 15, while international airlines will begin flying from there at 3am (0300 hours) on September 28, he said.
Inconvenience and confusion in moving airline documents and effects to Suvarnabhumi international airport will inevitably could be reduced if they could move and operating from there on September 15.
Several incentives will be given to local airlines including free parking and landing if they could move from Don Muang International Airport to Suvarnabhumi between Sept 15-27, he said, adding that
services from the present airport would cease at 3am on Sept 28.
THAI is so far the only local carrier that has agreed to fly from the new airport on Sept. 15.
Although the company made its corporate decision, many staff disagreed with the early move, saying that support facilities, including bus transport, is not at operational readiness. (MCOT)
Related Topics