---
Custom Search
Tuesday, April 1st, 2008
The Transport Ministry from the elected government has ordered the new board of Airports of Thailand (AOT) to outperform its predecessor in terms of financial returns. The ministry also reiterated the government's policy to cancel the use of Don Mueang as Bangkok's second airport and promote Suvarnabhumi as the capital's single airport. It demanded the board put this policy into practice.
New Airports of Thailand board members met Transport Minister Santi Prompat and Deputy Minister Songsak Thongsri yesterday. After the meeting, Mr Songsak said Airports of Thailand under the previous board appointed by the coup leader after the Sept 19, 2006 coup earned only two billion baht yearly, down from over 10 billion baht a year before the coup. Its dividend also plunged from over two baht per share to just 40 satang.
---
Friday, May 11th, 2007
The reopening of Don Mueang airport in March is making a dent in the balance sheet of Airports of Thailand (AOT), with a monthly loss of 70 million baht.
The loss reflects operating costs that far outstrip the income derived from serving a small number of non-connecting flights, at 140 to 160 a day, and daily passenger throughput of around 18,000.
Don Mueang is heavily underutilised, with a projected five million passengers yearly representing only about 12% of its capacity.
Before its closure last year, Don Mueang was handling up to 39 million passengers a year and 700 to 800 flights a day.
---
Thursday, October 5th, 2006
Airports of Thailand (AOT) will today seek approval from its board of directors to build a low-cost passenger terminal costing Bt1.2 billion at Suvarnabhumi Airport.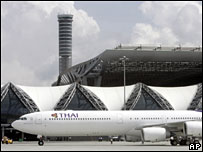 AOT president Chotisak Asapaviriya said the planned facilities would have a total space of 40,000 square metres, with an annual capacity to serve 17 million passengers. It will be especially designed for budget airlines and travellers, with the emphasis on reducing operating and other costs.
"Cost-efficiency is the top priority, because it will not be as beautiful and cosy as the existing terminal. However, service at the new low-cost hub will be fast and convenient."
---
Related Topics