Suvarnabhumi » Suvarnabhumi Airport set to open on Sept 28, ( Thailand )
Sunday, July 20th, 2008
---
Custom Search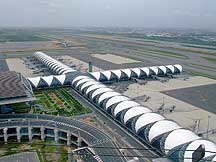 The opening date of the Suvarnabhumi International Airport was set recently by the government commmittee on management and development of the new airport, Deputies Transport Minister Gen.Chainant Charoensiri and Mr. Phumtham Wechayachai told a press conference after a meeting here Wednesday with the board of directors of Thai Airways International Public Company Limited (THAI), the national flag carrier.
Suvarnabhumi Airport is now set to open for commercial purposes on September 28, the Transport Ministry announced here on Wednesday.
A new committee comprising of representatives of all parties concerned, including Airports of Thailand Public Co., Ltd. (AOT), the Customs Department, the Immigration Bureau, THAI and other international airlines, would also be set up to oversee the relocation of Bangkok's internatonal airport from the Don Muang Airport to the Suvarnabhumi Airport, the two ministers said.
The committee set-up will be complete by June 17 when Prime Minister Thaksin Shinawatra will chair a meeting of all the parties concerned to review all projects and plans involving the Suvarnabhumi Airport, including the remaining construction and decoration works, to ensure that the new airport will be opened as scheduled, according to the ministers.
Gen. Chainant oversees AOT, while Mr. Phumtham supervises THAI.
THAI will begin moving its offices from the Don Muang Airport in early September and will completely move to the new airport the night before its opening on September 28, according to the company's top management.
"Construction and decoration works at the Suvarnabhumi Airport have been nearly complete at the moment. Only some minor works are to be settled over the next four months; so, I can say we're now ready for the opening of the new airport," said Gen. Chainant.
Related Topics