Suvarnabhumi » Tours of new Suvarnabhumi Airport terminals end Aug 15, 2006
Sunday, July 20th, 2008
---
Custom Search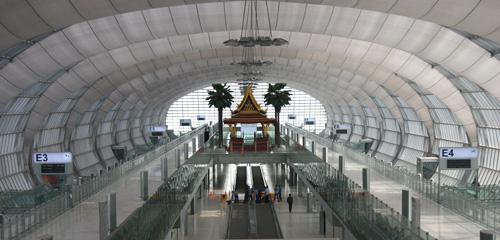 Heightened security concerns due to a foiled terror plot in the United Kingdom earlier this week have caused Thai aviation officials to halt tours of the not yet opened Suvarnabhumi International Airport terminals as of August 15, 2006.
Public tours of the new Suvarnabhumi Airport terminals, which have drawn a large crowds daily, will be cancelled from next Tuesday due to tightened security measures following the arrests of suspected terrorists who intended to blow up as many as a dozen aircraft departing UK airports for the United States.
Airports of Thailand Public Co., Ltd. (AOT) President Chotisak Asapaviriya said on Friday that starting August 15 his agency would not allow visitors inside the new airport terminals as part of a plan to tighten its security measures following the reported arrest of at least 24 suspects so far in connection with the terror plot.
But AOT would permit visitors to continue to tour the new Bangkok airport grounds on its buses, he said, adding that this permission would last until September 15 when the airport is scheduled to open for domestic flights.
The tightening of security measures at the Suvarnabhumi International Airport have been adopted and included the use of military units mobilized to help secure Don Muang International Airport and major provincial airports at the request of AOT.
Related Topics