---
Custom Search
The airport has 2 parallel runways (60 m. wide, 4,000 m. and 3700 m. long) and 2 parallel taxiways to accommodate simultaneous departures and arrivals.
It has a total of 120 parking bays (51 with contact gates and 69 remote gates) and 5 of these are capable of accommodating the Airbus A380 aircraft.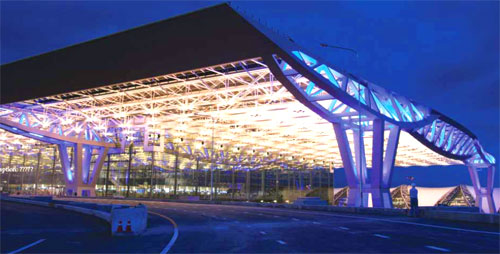 With a capacity of handling 76 flight operations per hour, both international and domestic flights will share the airport terminal but will be assigned to different parts of the concourse.
In the initial phase of construction, it will be capable of handling 45 million passengers and 3 million tonnes of cargo per year.
Above the underground rail link station and in front of the passenger terminal building is the 600-room hotel operated by Accor Group under the Novotel brand. Between the airport hotel and the terminal building are the two 5-storey car park buildings with a combined capacity of 5,000 cars.
The airport has 5 main access routes, among these the most convenient route is via the Bangkok-Chon Buri Motorway (Highway No. 7). In addition to the express rail link, 11 city bus routes operated by BMTA will serve the airport.
Long-term plans for four runways flanking two main terminals and two satellite buildings with a combined capacity capable of handling up to 100 million passengers and 6.4 million tonnes of cargo a year are on the drawing board.
The second phase of airport expansion involving the construction of a satellite building south of the main terminal is expected to begin 3 to 5 years after the completion of the first main terminal.
Transportation around Airport
Aircrew Coach
Tour Group Bus
Private Bus
Private Vehicles
Related Topics