Suvarnabhumi » Airport of Thailand to promote Suvanabhumi as Smile Airport
Sunday, July 20th, 2008
---
Custom Search
Airports of Thailand (AOT) is set to accelerate and resolve all problems which have arisen in Thailand's flagship Suvarnabhumi Airport and to promote it as the "Smile Airport" for the region in the coming years.
Serirat Prasutanont, Suvarnabhumi Airport director, revealed that AOT plans to develop the airport and step up efforts to cope with problems the airport is facing such as insufficient toilets, taxiway and runway cracks, and inefficient internal services, to get the showcase facility back on track to ensure that both travellers and air carriers will be given more convenience.
He believed Suvarnabhumi would be one of the world's top 10 airports in the future when all minor problems are solved.
"Unless there are (unforseen) risk factors such as political and economic woes, and terrorism, we believe Suvarnabhumi will become the Smile Airport and the region's aviation center in the future given the fact that Thai Airways International and members of the Star Alliance rely on the airport services and its geographical advantage," he said.
Nine airlines affiliated with Star Alliance that fly into and out of Bangkok daily – including Thai Airways, All Nippon Airways, Austrian Airlines, Asiana Airlines, Lufthansa, Scandinavian Airlines, Singapore Airlines, Swiss International Air Lines and United Airlines.
"Don Muang and Suvarnabhumi airports, if put into service simultaneously, can accommodate around 80 million passengers a year. No neighbouring countries can do that like our country," he said.
On the runway and taxiway cracks, he said Thai Airways pilots had made their own inspection and found the runway and taxiway remaining to be safe, and that some media had exaggerated the extend of damage.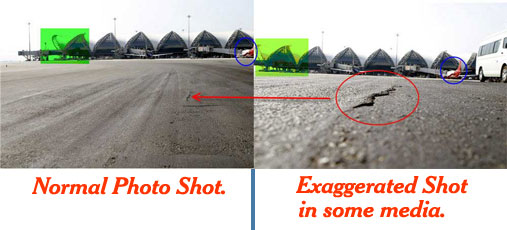 "The finding will help boost confidence among people who plan to count on services at the Suvarnabhumi, " he said.
Related Topics