Suvarnabhumi » Amari Don Muang Hotel emphasizes meetings as customers move to the new airport (Guide / Article)
Sunday, July 20th, 2008
---
Custom Search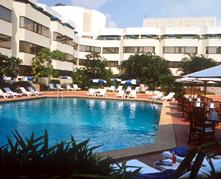 As the closure of the 92-year-old Don Muang airport last month has dramatically changed the business landscape for hotels situated in its neighbourhood as airport-related business and guests have dried up.
The move of all air services to Suvarnabhumi Airport on Sept 28 has prompted operators in the Don Muang area, such as the Amari Don Muang Hotel (Former: Amari Airport Hotel) , Miracle Grand Convention Hotel Bangkok and Rama Gardens Hotel Bangkok to focus on a new target market.
Once relying heavily on airport-linked business, these properties are now gearing themselves largely towards meetings, conferences, weddings, training, functions and those staying overnight, as well as general tourists. The change was not unexpected but it took place sooner than the hoteliers had anticipated because of the government's rush to open the 125-billion-baht airport.
Hotels near Don Muang declined to give specific figures on occupancy rates in the post-airport period, but said the business had been "very quiet."
More dramatic changes are taking place at the 423-room Amari Don Muang Airport Hotel, which had enjoyed brisk business since its opening 24 years ago, than at the other two major players, which previously worked to depend more on the meeting, conference and function businesses.
The management of the Amari Don Muang Airport Hotel, which is connected directly to the old airport by an overpass, has adopted a bold new business strategy and set a target to become more attuned to the new environment.
The Amari Don Muang is putting "considerable" investment into emphasising meetings, conferences, weddings and other functions, reducing restaurant prices by more than 30% and slashing room tariffs by "considerable" rates. It is also reducing its staff by more than 30% to reflect reduced requirements.
By the end of the year, the Amari Don Muang will offer six meeting rooms and boardrooms of varying sizes, from 135 to 600 sq m, including two stylish ballrooms.
General manager Robert Jaermann expressed optimism about the new business approach in maintaining and expanding its commercial and government-seminar business, along with weddings, product launches and training seminars on weekends, as well as outside catering for private and corporate events and parties.
"Our overall focus is on quality at very reasonable prices throughout. But it is unlikely for the hotel to return to what it was in." he admitted.
On a positive note, he said that with civil planes going to Suvarnabhumi, the Amari Don Muang now sat in a quiet location. It's close enough to the city centre _ easily within a 25- to 30-minute trip on the expressway _ but far enough away from the noise and bustle to allow business meetings and private functions to go smoothly.
However, Mr Jaermann said it would take up to six months to see whether the new business approach would bear fruit, stressing that the changes had been prepared long in advance of the airport's closure.
The Amari Don Muang Hotel (Former: Amari Airport Hotel), which is 43 km away from Suvarnabhumi Airport or 45 minutes by expressway, will continue to maintain its four-star standard, though further renovation is not expected in the near future. (Bkk Post)
Related Topics