Suvarnabhumi » Transport Minister to take ambassadors tour Suvarnabhumi Airport
Sunday, July 20th, 2008
---
Custom Search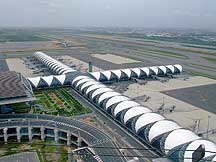 Transport Minister Pongsak Raktapongpaisal on Tuesday revealed that he and Foreign Minister Kantathi Suphamongkhon would take a team of more than 100 foreign envoys to observe the readiness of Bangkok's new Suvarnabhumi Airport on Friday (September 8, 2006) before it is officially opened for commercial services on September 28, 2006.
He said the observation tour by the ambassadors of many countries to see the operation of various systems at the new airport is organized to give an assurance that the airport is now ready for its commercial services. (News by TNA)
Leave a Reply
You must be logged in to post a comment.
Related Topics