Suvarnabhumi » Budget airlines submit flight plans Aug 17, 2006
Sunday, July 20th, 2008
---
Custom Search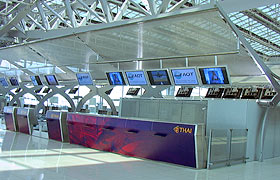 Thailand's state-controlled national flag carrier, Thai Airways International (THAI), has been so far the only airline ready to launch domestic flights on September 15 from Bangkok's new Suvarnabhumi International Airport, while all low-cost airlines are preparing to submit their flight programs to Airports of Thailand Public Co., Ltd. (AOT) this Thursday (August 17).
Suvarnabhumi International Airport Director Somchai Sawasdeepol said here on Sunday that AOT officials and executives of the low-cost airlines met last week on progress made by each airline to operate from the new airport on schedule.
He said so far THAI had confirmed that it was ready to operate five domestic flights on that day, including those leaving for the northern provinces of Chiang Mai and Phitsanulok, as well as the northeastern province of Udon Thani.
Low-cost airlines have informed AOT that they will submit their flight programs Thursday, which will let officials know which of them is ready to fly from the new airport on September 15.
Commercial flights from Suvarnabhumi were originally scheduled to commence on September 28.
The date is moved earlier to September 15 with domestic flights starting that day to enable airport officials to learn whether there is any lack of facilities there.
Related Topics