---
Custom Search
Wednesday, November 26th, 2008
Due to the protesters blockade at the airport, the Airports of Thailand has decided to temporary close the Suvarnabhumi airport since 04.00 AM, 26 November 2008 onward.
For latest developments at the Suvarnabhumi International Airport, please call: (+66) 021321882 or (+66) 021321888 or call tourist police at (+66) 026435522 .
*Thai passengers, please read here: Suvarnabhumi Temporary Closure Announcement (Thai language)
*สำหรับท่านผู้โดยสารชาวไทย โปรดอ่านเอกสารเผยแพร่เรื่อง การงดเที่ยวบินที่จะออกเดินทางจากท่าอากาศยานสุวรรณภูมิ ได้ ที่นี่
---
Friday, March 9th, 2007
Traffic through Thailand's six major airports grew robustly last year despite concerns that the September coup, teething problems at the new Suvarnabhumi airport and the transition from the old Don Muang airport would all adversely affect tourism.
Total passenger movements embarking, disembarking and transit through the airports operated by Airports of Thailand Plc (AOT) rose by 12.6% year-on-year to 53.03 million. The airports are Suvarnabhumi, Don Muang, Phuket, Chiang Mai, Hat Yai and Chiang Rai.
Combined aircraft movements takeoffs and landings increased 8.15% to 358,148, while total freight throughput rose 3.3%.
---
Tuesday, October 17th, 2006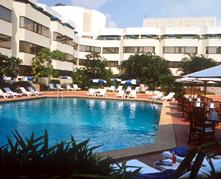 As the closure of the 92-year-old Don Muang airport last month has dramatically changed the business landscape for hotels situated in its neighbourhood as airport-related business and guests have dried up.
The move of all air services to Suvarnabhumi Airport on Sept 28 has prompted operators in the Don Muang area, such as the Amari Don Muang Hotel (Former: Amari Airport Hotel) , Miracle Grand Convention Hotel Bangkok and Rama Gardens Hotel Bangkok to focus on a new target market.
---
Related Topics