Suvarnabhumi » Suvarnabhumi Airport Bangkok ready for Megajet – Airbus A380
Sunday, July 20th, 2008
---
Custom Search
A380 impresses passengers on Asian test flight designed to shore up optimism about the giant plane's future.
Compared to an existing jumbo jet, the A380 is claimed to produce 30% less cabin noise and consume 20% less fuel.
The A380's main deck is 20 inches wider than the Boeing 747 jumbo jet's cabin, while the upper deck is 71% wider. The aircraft is 72.7 metres long, two metres longer than the B747-400. But its wingspan is wider than that of the B747-400, at 79.8 metres compared to 64.5 metres.
The aircraft can carry 525 passengers in a typical three-class configuration over a range of 15,000 kilometres, though some airlines may fit more seats, up to 853 passengers, for short-haul routes.
Asia is an important market for the A380s with eight of the 15 existing buyers, who have so far ordered 166 jets, at around $300 million apiece, in this region.
Of the 20 airports around the world expected to be served by A380s initially, half are in Asia Pacific, including Bangkok, Hong Kong, Singapore, Seoul and Tokyo.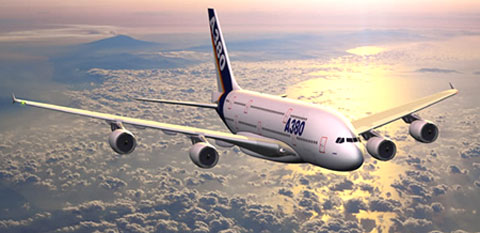 Holger Hatty, a member of Lufthansa's passenger airline board, said in an interview during the demonstration flight that Bangkok was one of the airports to which the German carrier would fly its first four A380s in 2009 and 2010.
"Bangkok is for sure on the shortlist of 20 destinations where we would deploy the aircraft. When the first aircraft will show up has yet to be decided," he said.
The decision would be made one year before the deliveries of the first A380s, he added.
Bangkok's Suvarnabhumi Airport has already been certified as capable of handling A380 operations. Airbus said that by 2011, more than 70 airports around the world would be capable of accommodating the superjumbo.
Richard Carcaillet, the A380 marking director, reaffirmed that there would be no further delays in aircraft deliveries and that development was on course.
He said the chance was "very good" for Airbus to receive 20 orders for the mammoth aircraft, from new and existing customers, this year.
One industry executive estimated that Airbus would need to sell more than 250 of the A380s to break even on the its $14-billion investment.
Related Topics