Suvarnabhumi » Suvarnabhumi Airport unveils its new logo
Sunday, July 20th, 2008
---
Custom Search
Suvarnabhumi Airport makes public its new logo for the first time on 15th January 2010.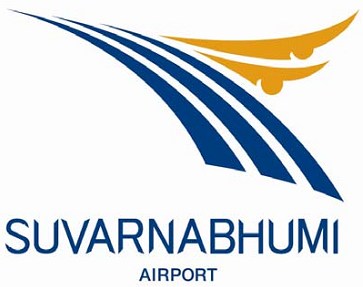 Mr. Serirat Prasutanond, the President of Airports of Thailand Public Company Limited (AOT), revealed the new logo of Suvarnabhumi Airport. He also said that the creation of a logo is a measure to support AOT's vision of being "Asia's Leading Airport Business", and aim of becoming a World Top 10 Airport in Airports Council International's (ACI) Airport Service Quality ranking program.
Mr. Nirandra Theeranartsin, the General Manager of Suvarnabhumi Airport, explained that the new logo was selected from the 635 entries in the Suvarnabhumi Airport Logo Design Contest, held from 20th July – 20th August 2009. The contest was open to the Thai general public, intended to promote works of Thai nationals to the international arena. AOT invited expert judges from education institutions and a private firm. The criteria for judging includes modern design, colour and concept to convey the phrase 'golden land', which is the meaning of Suvarnabhumi, and to show that it is a reputable international airport. The winner of the 1st prize is Mr. Taotai Suksirithada, a graduate student from Chulalongkorn University , who received
100,000 (one hundred thousand) baht and an award from HRH Princess Soamsavali.
Mr. Nirandra added that in addition to the winning prize, Suvarnabhumi Airport Thailand awarded 6 commendation prizes, which each person received 10,000 (ten thousand) baht, a trophy and a certificate. Also 8 other finalists were awarded 2,000 (two thousand) baht and a certificate. The forthcoming exhibition of Suvarnabhumi Airport Logo in the Passenger Terminal building will also show the logos from the 53 finalists. The 1st prize award presentation by HRH Princess Soamsavali will be held on the 26th January 2010 at 15:00, in the Passenger Terminal building. Her Royal Highness will also preside over the opening of the exhibition.
Related Topics