Suvarnabhumi » Thailand opens Asia's largest airport
Sunday, July 20th, 2008
---
Custom Search
REUTERS- Thailand's new international airport – the largest in Asia – has opened for flights in a bid to rival Hong Kong and Singapore as a transport hub.
Most things ran smoothly at the giant US$4bn ($6bn) airport, Suvarnabhumi, on its first days of operation last week although a computer glitch did strand some cargo and baggage.
The computer system was unable to link to the Thai Customs Department meaning some cargo and baggage could not clear customs, leaving shippers and some travellers frustrated.
The man in charge of the new airport, which will handle 45 million passengers a year, is Chotisak Asapaviriya.
As head of Airports of Thailand and the man ultimately responsible for the move from the tired arrival halls of Bangkok's Don Muang to Suvarnabhumi he headed the move which saw 1.8 million pieces of equipment – much of it the space of a few hours – shifted across Bangkok.
It was billed as one of the largest logistical operations in aviation history.
"Busy? I'll show you busy," he said at a recent business lunch before removing six mobile phones from his pockets and lining them up on the table.
"This one is for my friends, this one for my staff, this one for my customers and this one for ministers. This one is the prime minister and this one my wife. If I don't answer the last one, that's when I get big trouble," he said.
Following Thailand's military coup, he no longer has to worry about calls from Prime Minister Thaksin Shinawatra, now a virtual refugee in London, or his cabinet ministers, who have all been fired by the generals now in charge.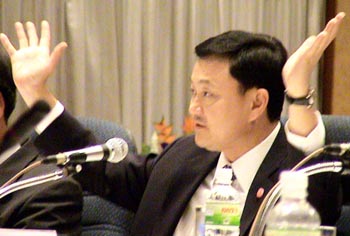 Even just weeks before the opening on September 28, negotiations with the airlines on new landing charges were fractious and testy, to the point that both sides resorted to a slanging match through the media. Some even called for the opening to be delayed.
But after 40 years on the drawing board and five years under construction, not to mention a "soft opening" a year ago, delays were not an option for Thaksin, a no-nonsense, self-styled CEO leader who prided himself on getting things done.
In July, he decreed the futuristic steel-and-glass structure built on "Cobra Swamp" east of the capital would open on September 28, exactly six years after it received its official name from revered King Bhumibol Adulyadej.
Thaksin admitted Suvarnabhumi, which means "Golden Land" in Thai and touted as a rival to Hong Kong, Singapore and Kuala Lumpur, could well run into some "inconveniences" early on.
For the weeks leading up to the opening, 1300 army cadets have been charging round the giant terminal with armfuls of dummy luggage in a simulation exercise.
Related Topics