Suvarnabhumi » Opening Suvarnabhumi Airports is not easy
Sunday, July 20th, 2008
---
Custom Search
Over the past week we have seen the activation of Suvarnabhumi Airport, and heard media commentary on the glitches, passenger frustrations and cargo delays due to teething problems. Relative to other international airport openings, however, Suvarnabhumi has done extremely well.
In typical Thai style, (and without the usual Western signs of panic or outward frustration), newly trained airport staff in the passenger terminals and cargo sheds have quietly and efficiently cleared passengers from hundreds of arriving aircraft and have already shipped thousands of tonnes of air cargo with a smile (even though some short-term backlogs have occurred).
Startup problems for large logistics infrastructure projects are a reality, particularly when activating complex interconnected systems with new staff. One of the wisest decisions of the Airports of Thailand (AoT) was to defer the implementation of the fully automated customs and air-cargo community systems until airport operations stabilised in approximately 90 days.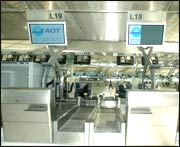 Originally, the fully integrated cargo IT system (which connected multiple organisations including customs, freight forwarders, terminal operators, banks, shippers and clearing agents) was to be available on opening, but now in will be implemented in stages. This meant that existing operators at Don Muang could operate business as usual at Suvarnabhumi, however, new airport operators needed to implement much simpler fall-back procedures.
When the new Hong Kong International Airport opened, significant volumes of perishable cargo were stranded or lost on the tarmac, unable to be located or loaded on aircraft, resulting in much having to be written off or destroyed. Although now working efficiently, the new Kuala Lumpur International airport had to have parts of its baggage system rebuilt due to damage from construction dust that ruined control equipment and conveyor-system bearings.
Twelve years ago, the greatest airport startup horror story occurred. The new Denver International Airport marched boldly into the future with a computerised baggage-handling system that instantly became famous for its ability to mangle or misplace a good portion of everything in its path. It is rumoured that some unclaimed bags from the opening are still travelling on the conveyors.
The baggage system, which was supposed to reduce flight delays, shorten waiting times at luggage carousels, and save airlines in labour costs, turned into an unmitigated failure and partially crippled the economy of the city.
Denver city officials had invited reporters to observe the opening of the new automated baggage system at the airport. They were treated to scenes of clothing and other personal effects scattered beneath the system's tracks, while the actuators that moved luggage from belt to belt would often destroy or toss the luggage right off the system. The baggage system continued to be a maintenance hassle and was finally terminated in September 2005, with traditional baggage handlers manually handling cargo and passenger luggage.
The International Air Transport Association estimates that as much as 20-30% of fresh and temperature-sensitive produce transported as air cargo is lost or damaged due to poor thermal protection on the tarmac. Perishable cargo is particularly vulnerable to damage when loaded in containers and then exposed to the heat on the tarmac. The danger time is from when it leaves the cargo shed freezer rooms until it is loaded on the aircraft. To protect goods during this short period of time, fresh produce exporters are packing their produce in expanded polystyrene packaging and expensive gel and cold packing that is taking up to 15% of the available air-cargo capacity, resulting in higher air-freight costs and reduced export volumes.
To providing world-class, drive-in chillers and freezer rooms in the two cargo terminals, Suvarnabhumi is claiming another world first in the use of new mobile air-cargo chillers designed in Thailand that keep perishable cargo cold on the tarmac. These chillers bring many benefits, including less expanded polystyrene packaging, improved product quality, less damage claims, lower air-freight costs and increased volumes of shipped fresh produce. These chillers are attracting significant attention from the shippers, airlines and ground-handling organisations.
Suvarnabhumi Airport could provide significant opportunities for boosting the Thai economy – particularly in the export of perishable and fresh produce by air. Thailand currently exports 600,000 tonnes of fresh produce as air freight, which accounts for more than 60% of all exports by air. The problem is that uplift capacity out of Thailand is severely constrained, while the international growth rate of perishable air cargo is 12% per year. (BKK Post)
Related Topics