---
Custom Search
Wednesday, November 26th, 2008
Due to the protesters blockade at the airport, the Airports of Thailand has decided to temporary close the Suvarnabhumi airport since 04.00 AM, 26 November 2008 onward.
For latest developments at the Suvarnabhumi International Airport, please call: (+66) 021321882 or (+66) 021321888 or call tourist police at (+66) 026435522 .
*Thai passengers, please read here: Suvarnabhumi Temporary Closure Announcement (Thai language)
*สำหรับท่านผู้โดยสารชาวไทย โปรดอ่านเอกสารเผยแพร่เรื่อง การงดเที่ยวบินที่จะออกเดินทางจากท่าอากาศยานสุวรรณภูมิ ได้ ที่นี่
---
Saturday, April 5th, 2008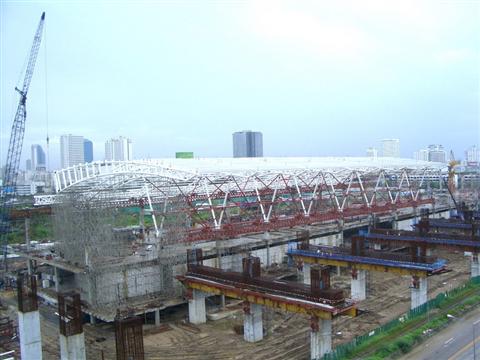 The long-delayed Suvarnabhumi airport railway link project is expected to be completed by the end of this year and to open for service early next year, according to the project manager.
Speaking after leading a media tour to observe construction progress, Banjongsak Panthon, project manager and engineer, said the civil engineering portions of the airport railway link project is some 78.5 per cent complete and that the electrical and mechanical portions are about 80 per cent ready.
He said there is much progress in the construction of the station and railway system, with Tub Chang Station set to become the first to be completed in July. Now, it is 60 per cent complete.
---
Wednesday, March 26th, 2008
Three airlines currently operating domestic flights out of Don Mueang airport are ready to shift back to Suvarnabhumi International Airport.
National flag carrier Thai Airways, low-cost carriers Nok Air and Orient Thai have been operating domestic flights from Don Mueang, claiming inadequate facilities at Suvarnabhumi. Now that the expansion of Suvarnabhumi airport is near complete, airline executives said they are ready to pack up their operations at Don Mueang.
THAI Airways president Apinan Sumanaseni said THAI supported the single airport policy since it benefited passengers the most. The shift of domestic operations back to Suvarnabhumi can be completed without fuss, he said.
---
« Previous Suvarnabhumi News — Next Suvarnabhumi News »
Related Topics