Suvarnabhumi Archive for April, 2008
---
Custom Search
Friday, April 25th, 2008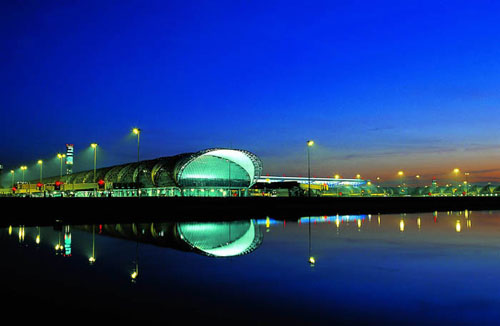 Amid sharp increases in the number of passengers and airlines using the Thai capital's Suvarnabhumi airport, concerned authorities are now ready to implement the second phase of construction to enlarge the airport, announced by a senior Airports of Thailand (AOT) official.
Somchai Sawasdipol, the AOT official, said more than 42 million passengers used facilities at the airport in 2007 while its full capacity is at 45 million.
There is a need to expand the airport to cater to the rising demands of passengers and airlines, said Mr. Somchai. AOT will speed solving noise pollution at the airport and prepare for the phase 2 construction.
---
Saturday, April 5th, 2008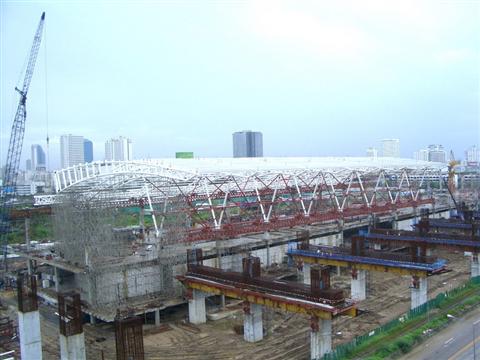 The long-delayed Suvarnabhumi airport railway link project is expected to be completed by the end of this year and to open for service early next year, according to the project manager.
Speaking after leading a media tour to observe construction progress, Banjongsak Panthon, project manager and engineer, said the civil engineering portions of the airport railway link project is some 78.5 per cent complete and that the electrical and mechanical portions are about 80 per cent ready.
He said there is much progress in the construction of the station and railway system, with Tub Chang Station set to become the first to be completed in July. Now, it is 60 per cent complete.
---
Tuesday, April 1st, 2008
The Transport Ministry from the elected government has ordered the new board of Airports of Thailand (AOT) to outperform its predecessor in terms of financial returns. The ministry also reiterated the government's policy to cancel the use of Don Mueang as Bangkok's second airport and promote Suvarnabhumi as the capital's single airport. It demanded the board put this policy into practice.
New Airports of Thailand board members met Transport Minister Santi Prompat and Deputy Minister Songsak Thongsri yesterday. After the meeting, Mr Songsak said Airports of Thailand under the previous board appointed by the coup leader after the Sept 19, 2006 coup earned only two billion baht yearly, down from over 10 billion baht a year before the coup. Its dividend also plunged from over two baht per share to just 40 satang.
---
Related Topics