---
Custom Search
Thursday, December 4th, 2008
Following the re-opening of Suvarnabhumi International Airport on 5 December 2008, remaining tourists/travellers are advised to contact airline Reservation Centres directly by telephone or e-mail to re-confirm their intention to travel in accordance with standard airline procedures for flight reservations requests.
Full airport operations will resume following a re-certification of the airport in accordance with internationally-recognized standards and guidelines established by the International Civil Aviation Organization (ICAO), an agency of the United Nations.
---
Friday, October 6th, 2006
Suvarnabhumi Airport could become a formidable competitor to the award winning Changi Airport, according to the Singapore airport's managing director Foo Sek Min.
He said Bangkok's new international airport was a "100 per cent improvement" on Don Muang, despite the many hitches since it opened on September 28.
Foo warned, however, that Suvarnabhumi should be aware of its costs spiralling, put up better signs and improve its baggage-handling system.
He said Changi – regarded as the world's best airport – was confident in its strategy of having three main terminals plus one low-cost terminal, instead of having one mega-terminal like Suvarnabhumi.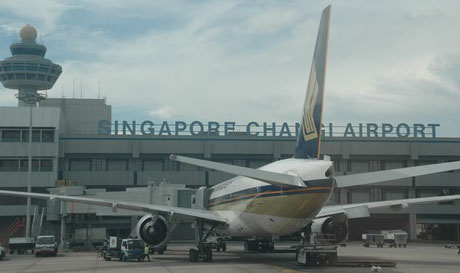 Singapore Airport, Changi
---
Tuesday, October 3rd, 2006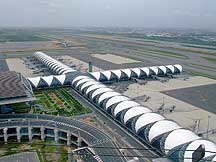 CNA Singapore News Analysis: - With the opening of Bangkok's new Suvarnabhumi Airport on Sept 28, the race to develop airport cities takes a critical step forward.
In no other part of the world is the competition more intense than this region. While Singapore Changi Airport frequently tops the list for efficiency, its closest rivals, which include Kuala Lumpur International Airport (KLIA) and Hong Kong International Airport (HKIA) at Chep Lap Kok besides Suvarnabhumi, boast room for expansion that would be hard to come by for Changi in the new strategy.
---
Related Topics