Suvarnabhumi State Railway of Thailand
---
Custom Search
Thursday, March 4th, 2010
The State Railway of Thailand is delaying the opening of its Suvarnabhumi Airport Rail Link after it found the developer Siemens would be unable to finish the railway on time.
SRT governor Yutthana Thapcharoen yesterday said his agency had planned to start commercial services between inner Bangkok and Suvarnabhumi airport next month, but Siemens was not ready to hand over the system.
---
Saturday, April 5th, 2008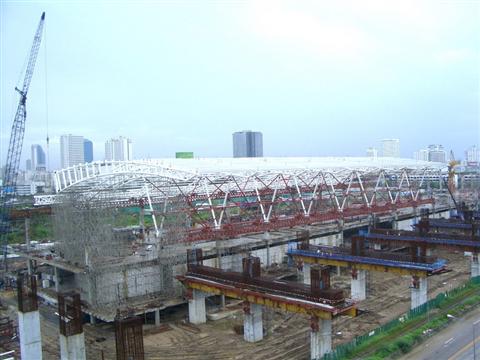 The long-delayed Suvarnabhumi airport railway link project is expected to be completed by the end of this year and to open for service early next year, according to the project manager.
Speaking after leading a media tour to observe construction progress, Banjongsak Panthon, project manager and engineer, said the civil engineering portions of the airport railway link project is some 78.5 per cent complete and that the electrical and mechanical portions are about 80 per cent ready.
He said there is much progress in the construction of the station and railway system, with Tub Chang Station set to become the first to be completed in July. Now, it is 60 per cent complete.
---
Thursday, October 4th, 2007
The first two express trains for the Airport Rail Link between the inner city and Suvarnabhumi airport will arrive from Germany this month and tests runs are planned for late next year. Bancha Khongnakhon, acting governor of the State Railway of Thailand (SRT), said the two trains total eight carriages.
They were being shipped by sea and would arrive at Laem Chabang port in Chon Buri province on Oct 15, 2007.
The trains will be shown to the public on Nov 9, 2007. Mr Bancha said nine trains had been ordered, with a total of 31 cars, from Siemens of Germany. After delivery they will be housed at the State Railway of Thailand depot in the Soon Wijai area.
---
Related Topics