Suvarnabhumi » New Airport fees for Suvarnabhumi Airport
Sunday, July 20th, 2008
---
Custom Search
The international departure tax would be increased by Bt200 to Bt700 and domestic passengers would incur a Bt100 fee, up from a current Bt50. The increase would be effective from February 1, 2007.
Bangkok-Airport-Fee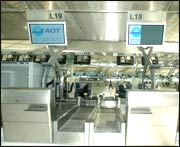 AOT operates Suvarnabhumi Airport. It had planned to introduce the new taxes upon the opening of the new airport on September 28. Meanwhile, new landing fees levied on aircraft using the airport would be imposed from April 1, 2007. That is a six-month delay from the original schedule.
AOT said it was postponing the new fee to attract airlines to Suvarnabhumi. The new landing fee is a 15-per-cent increase on that charged at Don Muang airport.
AOT explained earlier that fees at Suvarnabhumi Airport needed to be raised due to the greater amenities and facilities that would be provided. After 40 years in the making Suvarnabhumi has cost Bt150 billion. It is scheduled to start operations on September 28.
Related Topics